Rawlings to Chair Spitzer's Commission on Higher Ed
Eliot Spitzer wants New York State's higher education system to be among the best in the country, and he wants Cornell's president emeritus Hunter Rawlings to lead the way. Hunter has been tapped by Spitzer to serve as chairman of the state's new higher education commission.
Reports the New York Times:
The governor said he hoped that in five years the state would have four or five campuses that "define excellence in particular areas."

SUNY is the largest public university in the United States, with more than 400,000 students on 64 campuses, including research centers, comprehensive colleges and community colleges. None are included in the U.S. News and World Report's widely quoted list of top 50 universities, which does have six California public universities.

Mr. Spitzer indicated that he thought the state university "has so many masters" that it might need a leaner administrative structure. "SUNY has a board of regents, it has a chancellor, it has its own trustees, it has the Legislature, it has the governor, obviously. There is a disparate governing structure that to a certain extent has not permitted one articulable strategy and one unifying theory about what it can or should do."

Several other states and state universities have announced that they also hope to improve their national standings.

"It's very hard to move up," said David W. Breneman, dean of the school of education at the University of Virginia. "All of these other universities aren't standing still. And they've got the people, the infrastructure, the grants."

The chairman of the 30-member commission is Hunter R. Rawlings III, a former president of Cornell University. He said in an interview that while the state university would be a primary focus of the commission, the governor wanted to assess private universities as well. He said the governor was also talking about issues like governance, tuition policy and research excellence.
It will be interesting to see what role Cornell plays in the commission's recommendations. Our alma mater is a private institution, but it is also the land-grant university for the State of the New York, and it contracts with the state to provide education, research, and outreach in disciplines the state deems vital to its well-being.
It's important to keep in mind that Cornell's relationship with the State of New York has not changed significantly over the last fifty years. As a result, the collection of departments and programs scattered across the contract colleges is becoming increasingly disorganized, confusing, and anachronistic.
I hope to write more about this in the future, but the Rawlings commission may provide Cornell and the State of New York with the impetus for streamlining and strengthening Cornell's educational offerings.
MetaEzra at Lax Semis
Here are your humble scribes at the end of the epic Duke-Cornell lacrosse game.
Although we lost, you couldn't ask for a better game to finish the season with. Down 10 to 3 with only 15 minutes left in the game, the team in carnelian and white surged back with spirit and character to tie the game with only 17 seconds left. It was also great to see Cornell fans out in very large numbers. There's some speculation that Saturday's crowd of 52,000 at M&T Bank Stadium constituted the largest audience ever for a Cornell sporting event.
The Difference Between Red and Blue
For those of us watching the NCAA national lacrosse championships this weekend in Baltimore, it is important to keep in mind a significant difference between the Cornell team and the rest of the field. This is a difference that goes beyond the fact that Cornell will be the only team wearing red (all the other teams wear blue), or that Cornell's semifinal match-up is against a team that attracted a lot of negative press last year, and is getting a lot of positive press this year.
No, the biggest difference will be that unlike players on all three other teams, no Cornell player is on an athletic or academic scholarship.
This year's Big Red lacrosse team, complete with some of the finest scholar-athletes in the country, is a testament to the fact that the Ivy League model of college athletics can work, and can be competitive at the very highest level in the nation.
And for that reason alone, no matter what happens this weekend in Baltimore, the Big Red lacrosse team is already composed of a bunch of champions in my book.
Cornell! Cornell! I yell, yell, yell Cornell!
A Chat With Robert Frank
Today I sat down with Robert Frank, the Henrietta Louis Johnson Professor of Management and Professor of Economics at the Johnson Graduate School, for an interview about his latest book, The Economic Naturalist. The final result will appear next week on Inside Higher Ed, but for now, here are some Cornell-specific questions I was able to squeeze in.
Frank writes monthly for The New York Times' "Economic Scene" column and has been teaching at Cornell since 1972. Half the proceeds from his book will go to the John S. Knight Institute for Writing in the Disciplines, which inspired his method for teaching introductory economics.
On the organization of Cornell's economics faculty:
There's an enormous amount of redundancy at Cornell. Anyone who comes in from the outside sees it immediately. I think in economics we've got something like 130 Ph.D. economists on the Cornell faculty scattered throughout all the seven colleges and different departments. For the same money, you could compose a 50-member superstar department that would be a total world beater. So you could say, in today's competitive climate where the payoff to achievement is really explosively nonlinear -- if you don't get near the top of the heap, nobody knows you at all -- is being pretty good at a lot of different stuff a good strategy? In principle, no. The university, to its credit, has been undertaking a lot of effort to try and rationalize the redundancy across campus, so there's been in the last decade an economics field that's been constituted that has a lot of oversight about hiring and recruitment and promotion decisions across the different units that hire economists on campus. And I think we'll see more of that. To go forward with the idea that you can cover every base and be pretty good at everything is just not a good strategy in today's educational competition.
On charging for the alumni magazine:
My wife has a degree from Columbia -- it's a graduate degree -- and she gets the undergraduate Columbia magazine, or the university-wide one, I'm not sure what it is. But she says it's an excellent publication, they don't charge her for it, and she asks me the exact same question you've asked. I think Cornell should consider the possibility that it's made an error here. It's not my job to price alumni magazines, so I can't pretend that I've studied it, but just based on my casual look at what different universities do, I'm going to guess that Cornell's made a mistake here.
On what's changed over the years:
Well it's gotten more competitive to get into Cornell, the students have longer resumes. I don't notice that the students are fundamentally any different. People often ask, Are they worse writers now? I think there's this fear that kids growing up playing Game Boy all their life won't have learned to write, but in fact they seem about as good as ever.
The Cornell Battle Cry
In anticipation of this weekend's tournament, I started thinking about Cornell cheers, and how Cornellians might be able to drown out fans with more devilish loyalties. The few Cornell lacrosse games I have attended, I have only heard "Let's Go Red" and "C-U" as cheers, the former obviously a hockey staple and the later most likely from basketball or wrestling.
There's certainly a staple of Lynah cheers to choose from, but I think those should be saved for the ice.
But whatever happened to the old Cornell battle cry?
Cornell, Cornell, I yell, yell, yell, Cornell!
From Chapter 10 of Skelrag's History of Cornell:
Here, it is said, the Cornell yell was first invented. On an omnibus crowded with Cornellians driving from the city to the lake, Charley RAYMOND suggested trying a version of the Yale refrain-"eli, eli, eli, ell"; and an inverted form of it was attempted, Cornell! i-ell, i-ell; ell, ell. When, however, the Cornell crew passed that of Harvard, pressing on swift and straight to victory, a yell burst forth, caught up, by the groups of students throughout the vast company of spectators and by the spectators themselves: "Hurrah! hurrah! hurrah! Cornell ! I yell, yell, yell, Cornell !" which has since been adopted as a battle cry of the university on many closely contested fields.
It also makes an occurrence in the song "My Old Cornell":
Oh, I want to go back to the old days,
Those good old days on the hill,
Back to my Cornell, for that's where they all yell Cornell, I yell Cornell.
Far above Cayuga's waters I hear those chiming bells.
I'm longing and yearning and always returning to my old Cornell.
And it just might be time to bring it back...
Jeff Lehman on Rankings
The Chronicle of Higher Education is running a great article on the way that U.S. News' college rankings affects the way institutions of higher education allocate resources, often at the cost of educational quality.
Colleges are reluctant to admit that they "game" the figures, but most of the methods are so well known that many officials assume that most of their competitors engage in them...

At Baylor, as at many other institutions, the admissions office plays a crucial role in improving the rankings because 15 percent of U.S. News's formula is determined by measures of student selectivity, including scores on standardized entrance exams and the institution's acceptance rate. To improve those numbers, Baylor increased its total scholarship offerings from $38-million in 2001 to $86-million in 2005 and created an honors college. Since 2002 applications have increased (from 7,431 to 26,421) and the acceptance rate has dropped from 81 percent to 42 percent. Over the last five years, the average SAT score of enrolling first-year students has risen 30 points, to 1219.
So let's see, rankings tell us nothing about educational quality while encouraging colleges to spend money on frivolous programs like merit-based aid. Where have we heard this before?
Cornell's own Jeff Lehman is interviewed, and gets the last word in:
The U.S. News rankings clearly are not going to go away, but can they become more evenhanded in measuring university performance?

Jeffrey S. Lehman, former president of Cornell University, has thought a lot about the rankings and suggested changes over a group dinner where he happened to be seated next to Mortimer B. Zuckerman, the owner of U.S. News. As they are now constituted, he believes the rankings hurt a college because they force it to act in one extreme way or another, and rarely in the best interest of everyone there.

The rankings, for example, weigh average class size, but not average hours of student contact with tenured professors, he says. They measure spending on student aid, but not a university's tuition levels. They take into account the percentage of alumni who make gifts, but not the average size of their gifts.

"I wish that U.S. News would revise its methodology to focus on trade-offs," Mr. Lehman says. "The rankings could help to promote educational quality, rather than distorting institutional behavior, and could provide prospective students with a much more realistic view of the different choices that different universities are making."
It would be a good start. But now how do we convince those among us who cherish the rankings game?
CU In Baltimore!
In one of the most exciting lacrosse games of the 2007 season, the Carnelian and White overcame a 3-0 deficit to defeat Albany 12-11 in overtime. A full re-cap of the game is available here.
Next-up? National semi-finals against the winner of tomorrow's UNC-Duke match. Cornell's lacrosse team hasn't been to the semi-finals since since 1988. We will also take the opportunity to remind readers that no Cornell team has won a NCAA national championship since 1977.
MetaEzra will CU in Baltimore. Both Andy and myself are planning on attending the game, and you should too. Tickets are on sale through the Cornell Box Office bright and early on Monday morning. Get in touch if you want to meet up before, during, or after the game.
Let's Go Red!
Waitlist Use Up for Class of 2011
While we are on the topic of waitlists, I may as well report on some numbers I have recently heard from senior members of the administration about the use of Cornell's waitlist this year.
This would be expected, due to last year's rather large over-enrollment problem. As a result, Cornell utilized a fairly conservative admissions policy and places many students on the waitlist for the Class of 2011. Last year, the University over-enrolled by 240 students, and it would much rather hit its target of 3,050 undergraduates than scramble to have to find extra beds on North Campus for a lot of additional students.
Consequently, five out of the seven undergraduate colleges will utilize their waitlists this year. Only ILR and AAP have already filled their incoming classes without resorting to the waitlist. Combined, Engineering and Arts will probably take well over 100 students off the waitlist.
All said, expect Cornell to take roughly 200 students off the waitlist in 2007, similar to 2005 and 2004. This would reflect an actual yield rate of roughly 46-47%, whereas the University had an "expected" yield rate of 48-49%. For comparison purposes, last year the University expected a yield rate of 43-4% and experienced an actual yield rate of 46-47%. (See more here.)
There's a fairly active thread of high school seniors celebrating their waitlist "acceptances" over at College Confidential.
Of course, variance in the use of the waitlist really tells us nothing about student quality, admissions selectivity, or the relative popularity of a school. Enrollment management is pretty hard to master, especially at a school as large and as diverse as Cornell.

Don't Trust the Wall Street Journal
The Wall Street Journal is running a shockingly bad article on the use of the waitlist in the college admissions process. The author, Anjali Athavaley, wants you to believe that "many" top colleges and universities are simply not using their waitlists.
The yields surprised many schools, which had been preparing for more wait-list activity after a couple of years of tight admissions. Though it has always been a long shot to get in off the wait list at many schools, the odds have become worse in the past few years. This year, with applications pouring in, and students applying to multiple schools, admissions officers had anticipated more overlap so they were especially conservative in their yield forecasts. Many increased the number of slots offered on wait lists, expecting to then fill out their enrollment from the bench.
There's good reason not to believe it, and you can start by comparing the number of "manys" used in the article instead of cold, hard numbers.
All told, we get a table of eleven schools and their use of the waitlist in 2006 and 2007. Six experienced no significant change relative to the size of their class, one experienced an increase, and four experienced a decline. But even so, is Stanford or Chicago going from 10 or 15 waitlisted acceptances to 0 really that big of a deal when it represents less than one percent of its incoming class? No. It's pretty common for yield rates to fluctuate by 1-2 percent a year.
The Wall Street Journal article only needs to be one sentence long: "Enrollment management isn't a perfect science." There is no story here.
Consider our own Cornell as an example. According to the Common Dataset, over the last five years, Cornell's use of the waitlist has varied considerably, ranging as high as 209 (2004) and as low as 4 (2003). Last year, Cornell accepted 18 students off the waitlist and ended up over-enrolling by 240 students.
There is no trend here, nor should there be. There will always be a lot of random noise occurring, especially at schools with larger incoming classes to fill.
Ms. Athavaley is trying to turn anecdotes into a trend and make a story out of it. But in the process, she's doing much more: She's helping to contribute to a needless and wasteful nationwide hysteria over college admissions by reporting on a "trend" that may not even exist. Of course, the chattering, bourgeoisie classes that read the WSJ eat this stuff up.
So unless you show me a comprehensive study looking at the use of waitlists at a significant number of schools over a considerable time frame, color me skeptical.
How Great are Cornell Fans?
Another reason to love Cornell.
Over at the eLynah Forum, Cornell lacrosse fans are still fired up about Cornell's number four seed in the NCAA tournament bracket, even though Cornell was the only undefeated team in the country and it beat the number one seed, Duke, earlier this year.
Anyways, instead of just griping about it, one intrepid Cornell alum has taken the matter into his own hands, mathematically attempting to prove Cornell's superiority. Using the Bradley-Terry Ratings scheme, which was originally designed to rate chess players, the marginal probability that certain teams are better than others can be calculated: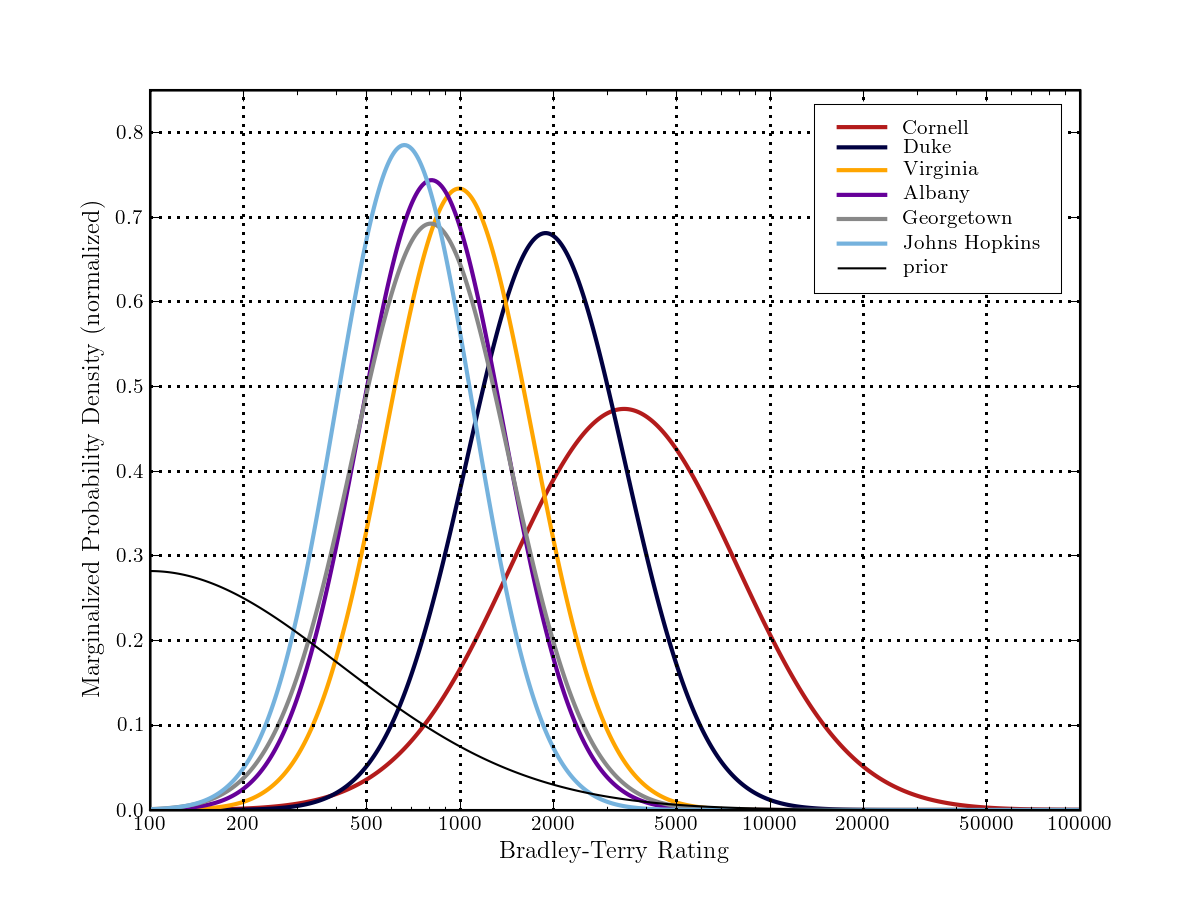 The red line (Cornell) to the right of the blue line (Duke) demonstrates that there is a 75% chance that Cornell is a better team than Duke. If Cornell prevails over Albany this weekend, then it will be a Duke/Cornell match-up in the semifinals, and we'll be certain to find out which team is better... again.
Let's Go Red!
Dead Heads on the Hill
Not E.B. White. Not Kurt Vonnegut. Not Victor Nabokov. Not even Ann Coulter.
A fair number of people believe that Cornell's most significant contribution to contemporary American culture occurred on May 8th, 1977, when the Grateful Dead played Barton Hall. The show is a legend among dead heads and is one of the most popular shows available for downloading or trading over the Internet.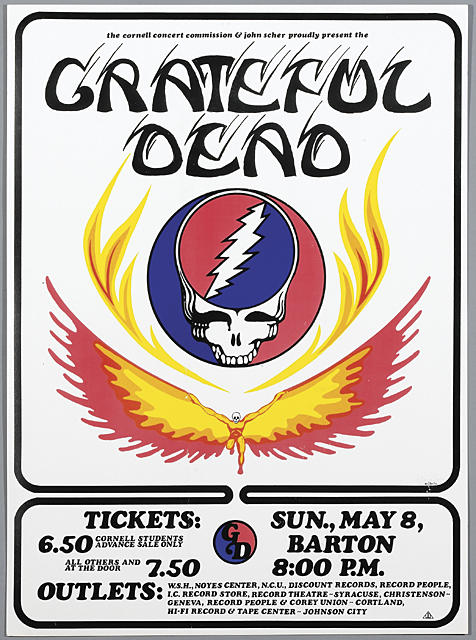 Apparently LSD flooded the gorges that night.
And now the City of Ithaca has proclaimed May 8th official Grateful Dead day. Only in Ithaca.
You can stream the show for yourself here.
And the best concert I ever witnessed during my days in Ithaca? That was the Arcade Fire at Noyes right before they exploded onto the scene in November of 2004. All 300 kids in the room were convulsing in hysterics by the end of Neighborhood #1 (Tunnels).
Why Biddy Can't Show Us The Money
Loyal reader PC recently wrote in commenting about Biddy's article in the Chronicle last week. He noted that last year's financial plan for the University documented a net operating surplus of $22 million, but that the cost of adopting financial aid policies that mirrored Harvard's would only be $17 million. So why can't Biddy afford it?
The problem with the $22 million figure is that it represents the net operating revenue for the entire university—including Weill Cornell—and does not represent the funds that could conceivably be used for financial aid. As of January, Cornell is only projecting a net $2 million surplus for the Ithaca campus this academic year. And a lot of that $2 million is already "owned" by individual budget units across the University.
It's very easy to forget that the University's finances do not operate as a giant pot of money swishing around. Money from the Medical School can't suddenly find itself paying for a Human Ecology student's financial aid.